Village Preservation's public programs explore and celebrate historic preservation, the history and culture of Greenwich Village, the East Village, and NoHo, and New York City's built environment. Annual flagship events include the House Tour Benefit and June's Village Awards honoring the businesses, individuals, and institutions that contribute to the legendary quality of life in Greenwich Village, the East Village, and NoHo.

Want to have first pass at reservation for GVSHP program? One great perk of membership is that you have access to new program reservations ahead of the general public! Become a member for early program event notifications and first chance to reserve a spot, and so much more!


2019 - Celebrating the 50th Anniversary of the Greenwich Village Historic District
2019- Fall Continuing Continuing Education Classes for Real Estate Brokers, October 16 ,23, 30
Historic Plaque Program


Past Programs


Book Talk: Victory City with John Strausbaugh
Tuesday, October 22, 6:30pm
The Salmagundi Arts Club, 47 5th Avenue


New York City during World War II wasn't just a place of servicemen, politicians, heroes, G.I. Joes and Rosie the Riveters. It was also home to quislings and saboteurs; war protesters and conscientious objectors; gangsters and profiteers; and bobby-soxers, poets, painters, scientists, and spies.
In Victory City, John Strausbaugh tells the story of New York City's war years with richness, depth, and nuance, providing an important look into the City during this transformative war.
John Strausbaugh is the author of three books of New York City history: The Village, an epic history of Greenwich Village, and City of Sedition: The History of New York City during the Civil War. Both books boast awards and accolades. His latest, Victory City: A History of New York and New Yorkers During World War II, has been hailed as "a compulsively engaging read." He lives in Brooklyn Heights.

This event is not fully accessible - there are ten stairs up to the door
Continuing the Fight: Expanding Landmark Protections Since the Greenwich Village Historic District Designation
Wednesday, October 30, 6:30pm
United Methodist Church of the Village, at 201 West 13th Street

When Shirley Hayes, Verna Small, Jane Jacobs, Ruth Wittenberg, and other Village activists succeeded in getting the Greenwich Village Historic District (GVHD) designated in 1969, they did what no one had ever done before – securing landmark protections for over 2,200 buildings and nearly 100 blocks. As expansive and impressive as that victory was, much of Greenwich Village was left without protections. In the intervening fifty years, four new historic districts, two extensions of the GVHD, and a few dozen individual landmarks have been added, some only after long and bitter battles. Much still needs to be done.
Village Preservation Executive Director Andrew Berman will review the battles of the last fifty years – what was won and how, what was lost, and what still needs doing. He'll also look at Jane Jacobs' original plea for comprehensive landmark protections for Greenwich Village, and see how much of that vision has been fulfilled.

This event is fully accessible - wheelchair entrance on West 13th Street. This program is part of our year-long celebration of the 50th anniversary of the Greenwich Village Historic District. Learn more at gvshp.org/gvhd50.
50 Years of the Greenwich Village Historic District: How Landmarking Has Shaped and Preserved A Neighborhood
Monday, November 4, 6:30pm
First Presbyterian Church, 12 West 12th Street Entrance

In 1969, Greenwich Village preservationists, activists, and neighbors celebrated the victory of the designation of the Greenwich Village Historic District. In our final in a series of panel discussions marking the 50th anniversary of this milestone, we'll consider what has changed over the last half-century, what might have changed had it not been for landmarking, and what this all tells us about what the district's future might look like. What has landmarking allowed? What has it prevented? How has that process of making decisions about the shape of this neighborhood changed over the last fifty years?
Our panel will include:
Andrew Berman, Village Preservation Executive Director
Kent Barwick, former Chair, Landmarks Preservation Commission (LPC); President, Municipal Arts Society (MAS); co-founder Historic Districts Council

Ronda Wist, President at Wist Preservation Associates, former LPC Executive Director, and MAS Vice President
Frank Sanchis, Programs Director at the World Monuments Fund, former Senior Advisor to MAS and Vice President for Stewardship of Historic Sites for the National Trust for Historic Preservation

This event is fully accessible.
This is part of our year-long celebration of the 50th anniversary of the Greenwich Village Historic District. Learn more at gvshp.org/gvhd50.
Visionaries in the East Village: Reverend Guthrie and Frank Lloyd Wright
Tuesday, November 5, 6:30pm
Tompkins Square Library, 331 East 10th Street

The roots of counterculture in the East Village go back at least to Reverend William Norman Guthrie, Rector of St. Marks-in-the-Bouwerie Church from 1911-1937. A radical clergyman, esoteric author, and visionary, Guthrie not only espoused spiritual rituals from non-Western sources, but saw them as a means of revitalizing a neighborhood in ethnic and social transition. He enlisted his close friend, Frank Lloyd Wright, as the architect for utopian schemes to promote his agenda. This illustrated talk explores their efforts to revise religion, modern architecture, and New York itself in the late 1920s and early 1930s. This unknown story is featured in Dr. Anthony Alofsin's new book, Wright and New York: the Making of America's Architect.
Anthony Alofsin is an architect and art historian, and an expert on Frank Lloyd Wright. His first book, Frank Lloyd Wright: the Lost Years, defined the primitivist phase of Wright's work in the 1910s.

Books for sale by Books on Call.

This event is accessible, with ten stairs up to the lobby. There is a lift for wheelchair accessibility.
Members Only ($250+): The Village at the Met
Friday, November 8, 6:15pm
The Metropolitan Museum of Art, 1000 Fifth Avenue at 82nd Street
Register to rsvp@gvshp.org.

For museum lovers and skeptics alike, join us for an "inside look" at The Met as you've never seen it before! Professor Andrew Lear, is an author, historian, classicist, and public historian who has taught at Harvard, Columbia, NYU, and Pomona College. He has created a lively, private, hour-long exploration of the museum, specifically for Village Preservation, focusing on the great objects and artists in the collection which have connections to the Village. Learn the stories behind a selection of art across the Met's fabulous collection that represents the Village at the Met.

This event is fully accessible. Accessible entrances are located at Fifth Avenue and 81st Street and through the parking garage at Fifth Avenue and 80th Street. Wheelchairs may be borrowed from the coat check at the 81st Street entrance.

Not a member at the $250 level but want to attend? Join or increase your support at gvshp.org/donate
Illustrated Lecture: Greenwich Village's Tenth Street Studios
Tuesday, November 12, 6:30pm

Salmagundi Arts Club Main Gallery, 47 Fifth Avenue at 12th Street

The Tenth Street Studio Building in Greenwich Village, created by Richard Morris Hunt specifically and exclusively as commercial space for artists, was a new building type in 1857. The realization of such a building reflected both the newly elevated position of artists and the burgeoning art market. Artists flocked to New York because of its numerous art organizations, such as the National Academy of Design, founded in 1825 to promote and exhibit contemporary art and provide art instruction. More art dealers, clubs, and auction houses were located here by far than in most other cities. Clubs like the Century Association, located on 15th Street, were important not only for social contacts and patronage but also for fostering art appreciation through frequent exhibitions. Art historian and former director of the National Academy Museum and School of Fine Arts, Annette Blaugrund, will highlight the building and its famous artist-tenants in a lively illustrated talk.

This event is not fully accessible.
Metropolitan Klezmer 25th Anniversary: Jubilation! at Eldridge Street
Thursday, November 14, 7:00pm
The Museum at Eldridge Street, 12 Eldridge Street
Tickets are $30 at gvshp.org/events
Presented in partnership with The Museum at Eldridge Street and Metropolitan Klezmer

Now celebrating their 25th year together, Metropolitan Klezmer brings eclectic exuberance to Yiddish musical genres from all over the map. Performing vibrant versions of gems from wedding dance, trance, folk, swing, and tango styles, as well as soundtrack material from vintage Yiddish films, this octet reinvents tradition with irreverence, respect, and joy. This special performance will also feature a rarely heard repertoire including balladry of the Triangle Shirtwaist Factory Fire, a Yiddish-rooted Soviet animation score, and a gorgeous range of imaginative original compositions.
This event is part of Metropolitan Klezmer's Jubilation! 25th Anniversary Octet Concerts Series.

Jubilation! is made possible in part with public funds from Creative Engagement, supported by the New York City Department of Cultural Affairs in partnership with the City Council and the New York State Council on the Arts with the support of Governor Andrew Cuomo and administered by LMCC. All proceeds benefit Metropolitan Klezmer, the Museum at Eldridge Street, and Village Preservation

This event is fully accessible.
Documenting, Celebrating, & Preserving the History & Architecture of the East Village – 6th Street, Avenues B & C and Beyond
Tuesday, November 19, 6:30pm
6th Street Community Center, 638 East 6th Street btw. Aves B & C

Learn about Village Preservation's effort to raise awareness and appreciation of the East Village's history and advocate for its preservation. From the recently released report A History of the East Village and Its Architecture to the online resource East Village Building Blocks, learn more about the neighborhood's 350-year history and efforts to protect it.
With a presentation by Village Preservation's Director of Research and Preservation Sarah Bean Apmann, the evening will focus on, but not be limited to, the area around the 6th Street Community Center, our host for the evening, on 6th Street between Avenues B and C. Currents in neighborhood history and architecture connected to the organization and space, including synagogues, adaptive reuse, and community gardens, will also be highlighted.
The 6th Street Community Center is housed in a former synagogue and has been working to empower the Loisaida community since 1978.

This event is accessible, with six stairs up to the building.
The Decorated Tenement: How Immigrant Builders and Architects Transformed the Slum in the Gilded Age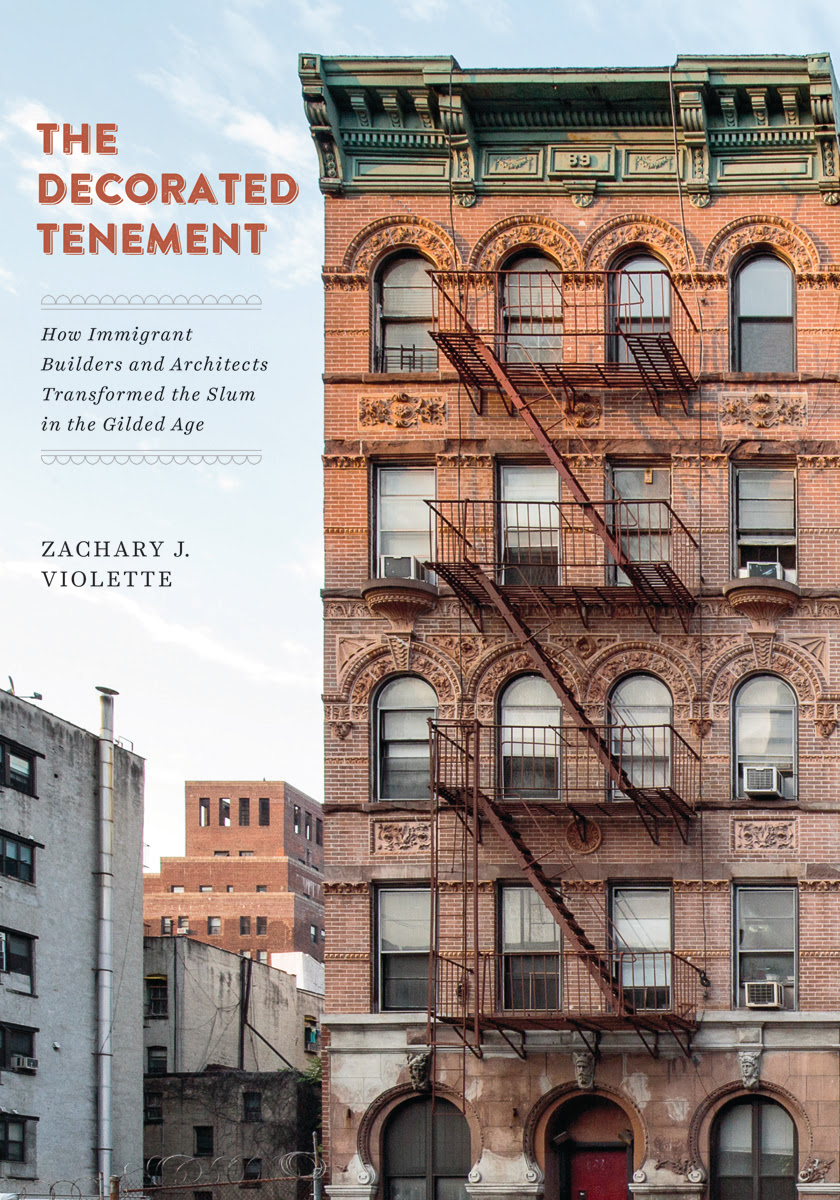 Tuesday, December 3, 6:00pm
Tompkins Square Park Library, 331 East 10th Street btw. Aves A & B

Celebrate the release of The Decorated Tenement by Zachary J. Violette with an illustrated book talk. In his book, Violette provides a reexamination of working-class architecture in late nineteenth-century urban New York. The "decorated tenement" exemplifies a wave of new buildings constructed by immigrant builders and architects, using ornament as an entry point to reconsider the roles of the tenement in improving housing for the working poor.
Zachary J. Violette has a Ph.D. in American and New England Studies from Boston University. Violette is an awardee of the H. Allan Brooks Traveling Fellowship for travel in Central Europe. He serves on the Board of the Vernacular Architecture Forum and is a lecturer at Parsons/The New School of Design in New York. He is currently researching a follow-up volume to The Decorated Tenement on the inner suburban apartment house in the early twentieth century.

This event is accessible, with ten stairs up to the lobby. There is a lift for wheelchair accessibility.
A Comedy Cellar Night, Benefiting Village Preservation
Thursday, December 5, 6:00pm
Comedy Cellar at Village Underground
130 West 3rd Street
Tickets are $20 and are available for purchase at comedycellar.com/reservation
All proceeds benefit Village Preservation

Join us for a few good laughs (and a few drinks) at this special evening of comedy, hosted by the Comedy Cellar, benefitting Village Preservation.
A 2018 Village Preservation Village Awardee, The Comedy Cellar NYC is easily one of the most iconic comedy clubs in the world, if not THE most iconic.
Since 1982, The Comedy Cellar has been the testing ground for some of the world's leading comics. Countless luminaries have performed and gotten their starts here, and continue to drop in today and practice their new routines. Owner Noam Dworman is a legacy cafe and comedy club figure, and son of the Club's founder Menachem (Manny) Dworman. Back in 1960, Manny was a cab driver with a dream to open a venue in bustling Greenwich Village. He did just that, and now, names such a Chris Rock, Amy Schumer, Jerry Seinfeld, Michelle Wolff, and Judd Apatow, hang out and perform there.

This event is not accessible.
Whitney Museum Tour: Rachel Harrison Life Hack
Thursday, December 12, 1:00pm
The Whitney Museum of American Art, 99 Gansevoort Street

When the days are cold and the streets are grey, the Whitney offers a bright, warm oasis overlooking the Hudson River. Enjoy a tour with one of the Whitney's Educational Fellows to learn about the New York City-based artist Rachel Harrison.
Funded by the Andy Warhol Foundation for the Visual Arts and the Whitney's National Committee, this exhibition hearkens to the pop art movement, which began in the Village. Harrison's work pushes boundaries with materials that are quite familiar to all New Yorkers, from trash cans to soccer balls, televisions, and more!
Rachel Harrison's first full-scale survey at the Whitney will track the development of her career over the past twenty-five years, incorporating room-size installations, autonomous sculpture, photography, and drawing. Harrison's complex works—in which readymades collude with invented forms—bring together the breadth of art history, the impurities of politics, and the artifacts of pop and celebrity culture. The exhibition will include approximately one hundred works spanning the early 1990s to the present, drawn from private and public collections throughout the world.
Event entry into the museum will allow attendees to stay and enjoy the Museum's collection of many Village-based artists and works.

This event is fully accessible.
Members Only ($500+): Holiday Celebration at the Salmagundi Arts Club
Sunday, December 15, 2:00-5:00pm
The Salmagundi Arts Club, 47 5th Avenue at 12th Street
Presented in partnership with the Salmagundi Arts Club and the Merchant's House Museum.
Register to rsvp@gvshp.org.

The lights are twinkling, there's music in the air, and we are celebrating this festive season by stepping back in time, through the doors of the elegant façade at 47 Fifth Avenue.
The Salmagundi Art Club's landmark double-wide 1853 house is lovingly maintained and full of art, historic details, and ephemera that tell the story of the house and the Club itself, which provides a center for representational art. Members of Village Preservation, the Merchant's House Museum, and the Salmagundi Art Club are invited to venture up the steps to see the art, enjoy a cocktail in the vintage bar, watch 5th Avenue go by from the elegant period parlor, and explore the building's countless original details. Spend time with friends new and old while learning about the important work our three organizations are doing to preserve our historic buildings, our neighborhood, and the legacies of art, community, architecture, and music we all hold dear.

This event is not fully accessible. There are ten stairs up to the front door.

Not a member at the $500 level but want to attend? Join or increase at gvshp.org/donate.
Thank you for not wearing fragrances at Village Preservation events for the health and consideration of others.

GVSHP's programs are generously funded by: the New York City Department of Cultural Affairs, the New York State Council on the Arts with the support of Governor Andrew M. Cuomo and the New York State Legislature, City Councilmember Margaret Chin, Corey Johnson, and Village Presrvation members.